Hey
I would like to post up my automotive journal on the build & transplant of a small block chevy into a newer GM pickup.
This is my pickup: 2004 Silverado 2wd 1500. Work truck trim- 4.3L v6/ 4L60E. Purchased new from a dealership in northern california. I was lucky to get A/C and a CD player. I've been bolting on to this truck ever since, the day the warranty expired was a happy day for me.
As she sits now: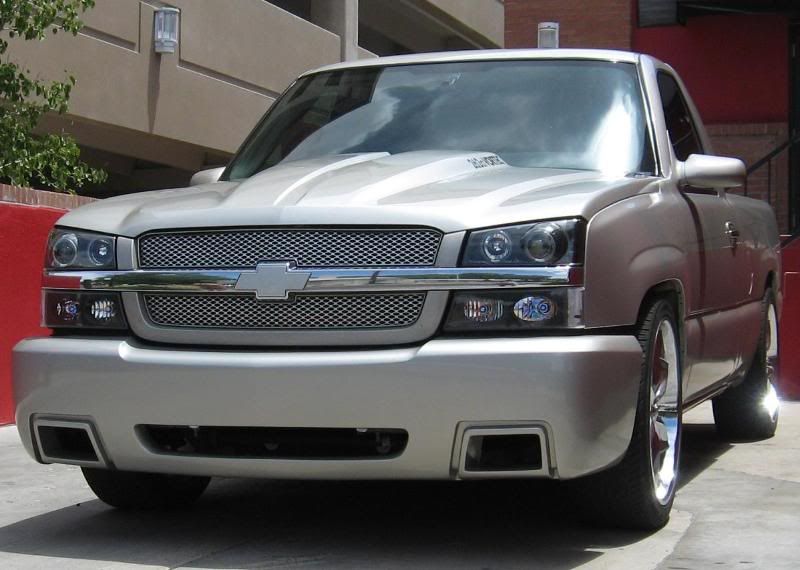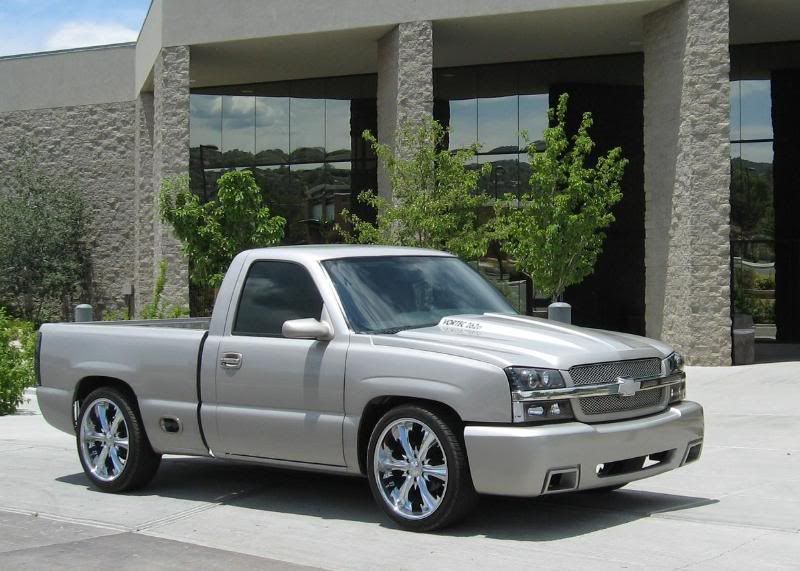 Lowered 2" / 4" with a Groundforce Coils, hangers & shackles kit.
Voodoo series 407 rims in 22" x 9.5" wrapped in Yokohama Parada Spec-X 265/40-22 tires
Street Scene bumper cover, side mirrors & speed grill.
Steel cowl hood, Shaved tailgate handle, fiberglass rear roll pan
Autoloc reverse tilt hood hinge
Halo projector headlights with 8000K HIDS, smoked LED tails.
StylinTrucks exhaust tip through the side of the bed
The anemic 4.3L has every performance bolt on piece I could find, and afford. Although it isn't a fire breathing horsepower beast with all of these parts, it is alot more fun to drive than it was stock.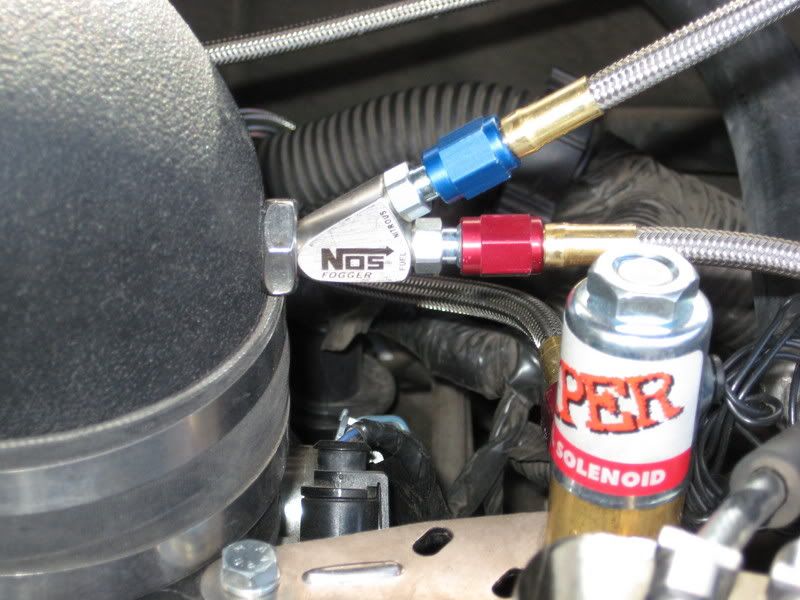 K&N FIPK intake
CFM-Tech throttlebody
Flex-a-lite Electric fans
March underdrive pulley
JBA Cat-4-ward headers
removed catalytic converters, single 3" mandrel bent exhaust, Flowmaster Super 40
HPTuners computer tuning software
MSD 6a ignition box and 8.5mm wires, Accel coil, summit cap & rotor
Motive Performance 4:10-1 ring & pinion
On the inside I added a few creature comforts.
A few custom painting interior pieces
Alpine IVA-W200 indash DVD player & Playstation 2
White guage face overlay
Autometer A/F meter to keep an eye on when not to use the nitrous
Gtech performance meter
removed jumper seat
home made diamond tread aluminum dash panels
So, finally. After all of that... now on to the build of the new powerplant.
I had acquired a freshly rebuilt / freshly blown up TBI 350ci. I didn't really have an intention to build a motor, nor did I have a home for a SBC either.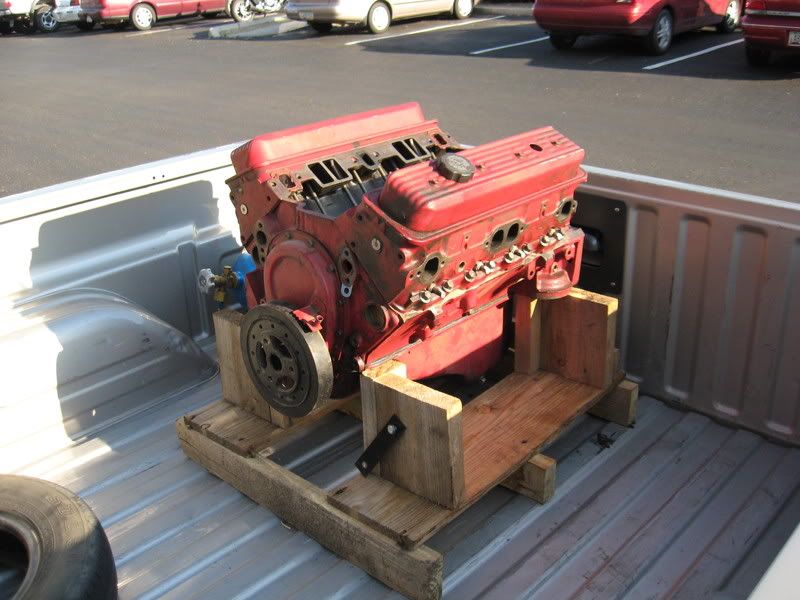 So, than I got to thinking... how about replacing the 4.3L V6 in daily driven Silverado with a built SBC... after all. Most of the parts from the V6 would bolt directly onto the small block. I can retain my trucks current accessories & brackets as well as a few already installed performance parts. And if I used vortec heads, the L31 fuel injection is identical to the 4.3L injection, plus two more cylinders.
So it's on... let the build begin.
Tore the engine down to discover I had a four bolt main block (score!) as well as discovered why this engine was put on someones backburner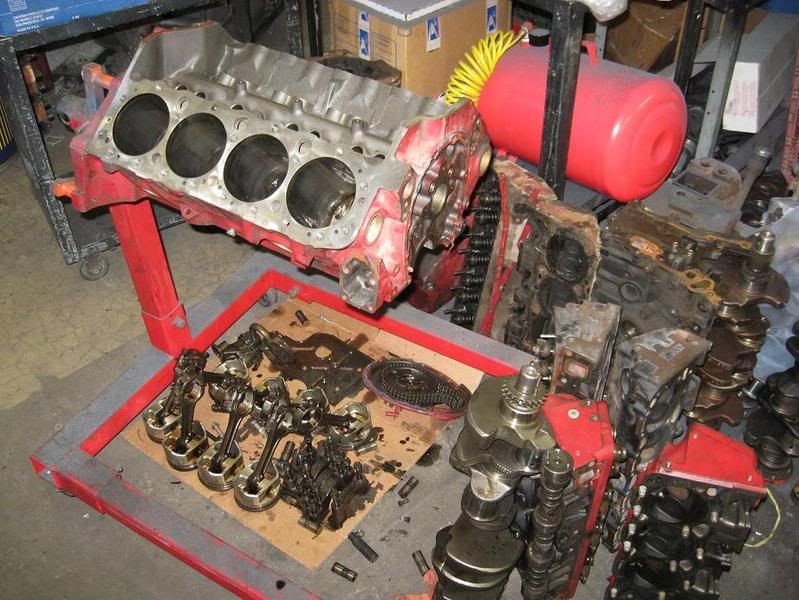 The engine was bored .030" over, the crank turned .010"/ .010" and even though the block has to provisions for a roller cam. whoever built it used a flat tappet cam.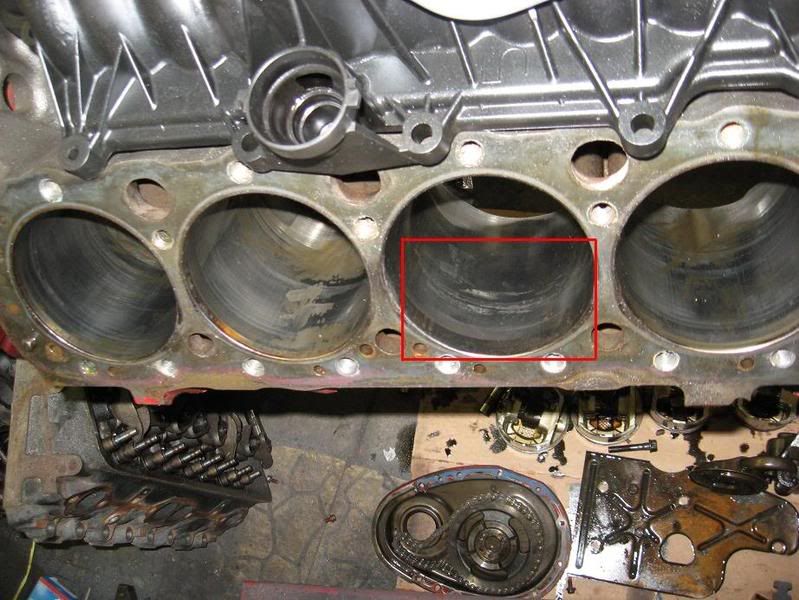 Brought out the Vortec 906 heads & L31 fuel injection
I had ordered the engine rebuild kit with new pistons, I decided on hyper eutectic flat top, four valve relief, H345NCP pistons in .040" over and after a Vat & Mag I honed the block to the pistons. I was pleased to see the ring scuff in the previous picture from the exploded piston had turned out!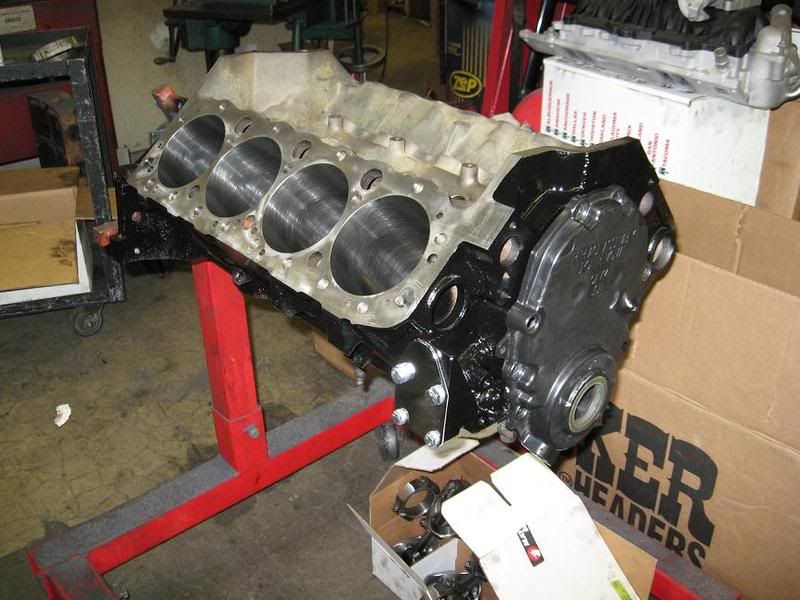 I found a dude on craigslist who had an entire ZZ4 rotating assembly that was taken out of a fresh crate motor to build a 383ci. I snatched those up and balanced the new rotating assembly with a flexplate and dampener for a 2004 LU3 4.3L v6.
Stabbed in the GMPP LT4 Hot Cam.
Layed in the forged ZZ4 crank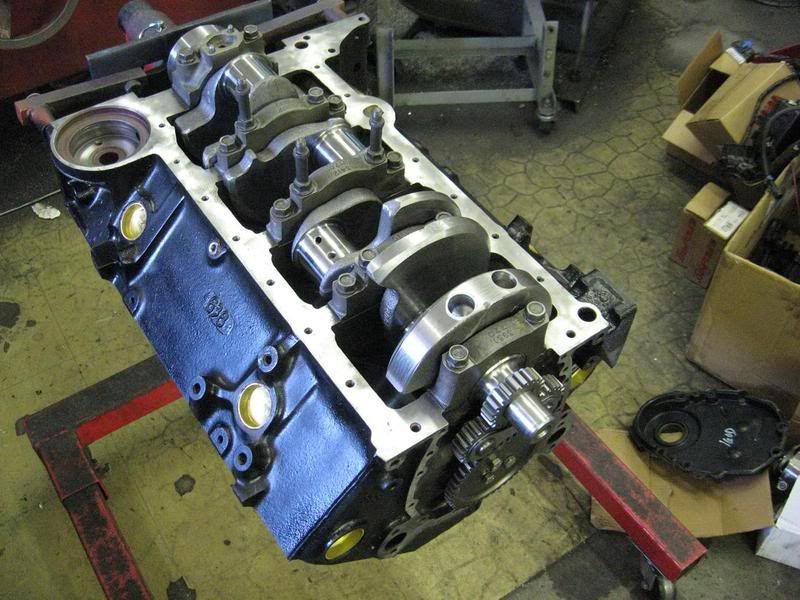 installed the H345NCP pistons & forged ZZ4 rods.
[IMG]http://i40.photobucket.com/albums/e227/mykk/Project%20383ci/longblock1.jpg[/IMG]
At TDC the pistons sit .004" in the hole. The felpro 7733pt head gaskets ( supplied in the kit) have a compressed thickness of .039", giving me a quench height of .043" and with the 64cc chambers of Vortec heads I'm looking at a static compression of 10.2-1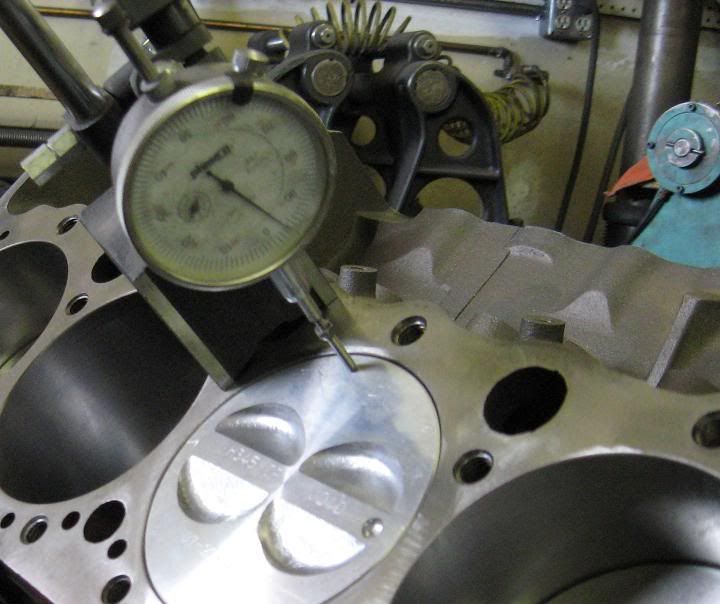 I had wanted to use a geardrive on my build, not for any real reason besides the noise. Although geardrives can have an over bearing whine. I ordered a summit geardrive in the quiet variety for roller cams.
In order to get the geardrive to work behind the Vortec plastic timing cover a few things needed to get modified. In order to clear the crank position sensor reluctor wheel spacers needed to used to shim the reluctor away from the crank gear, I used a couple valve spring shims notched for the crank keyway.
Also re-inforced the plastic cover with a piece of shaped tin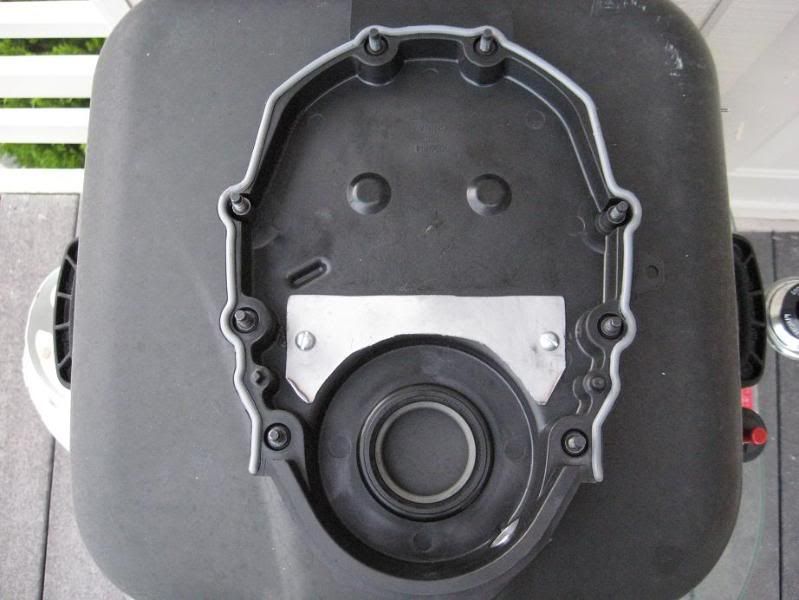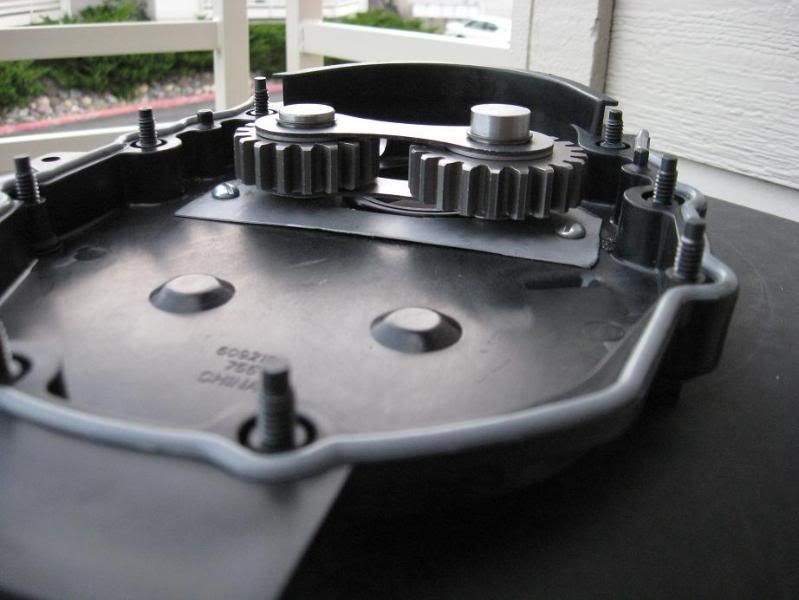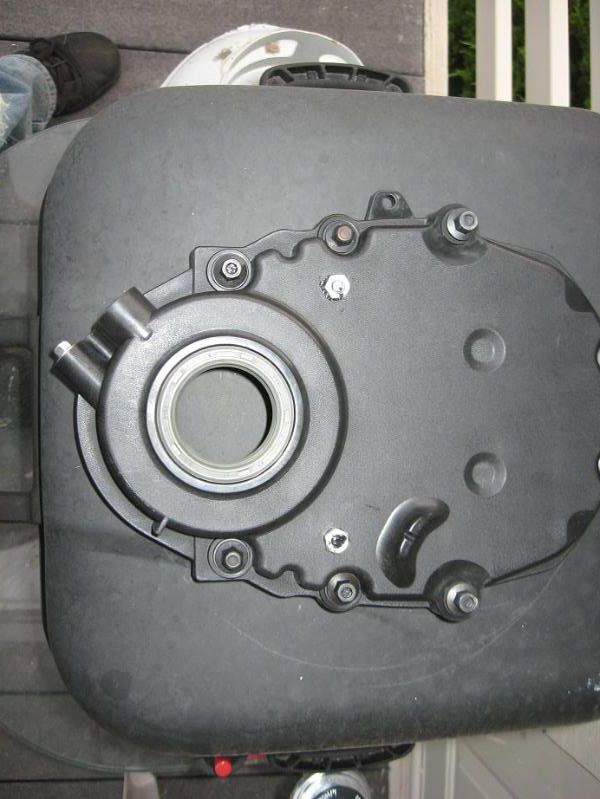 So, with the Short block buttoned up it's time to tackle the high end of the engine.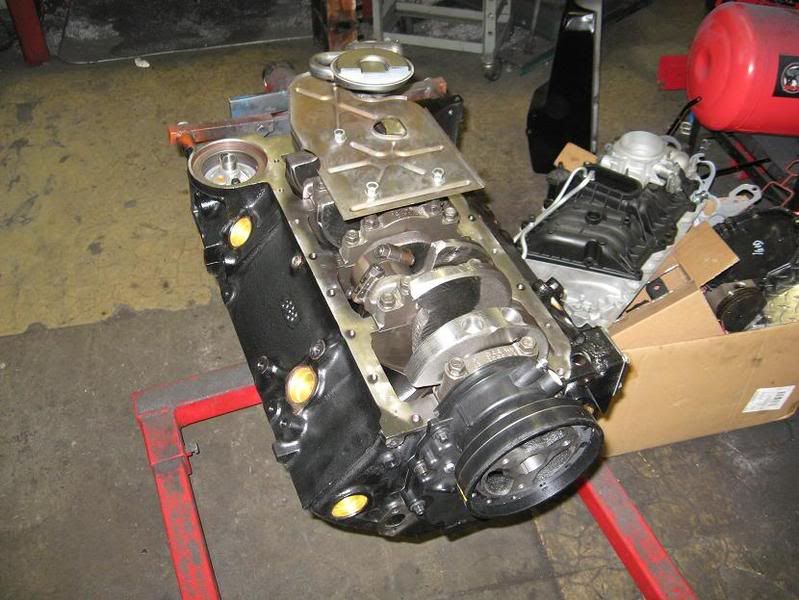 I started with the GMPP roller lifters, retainers & cage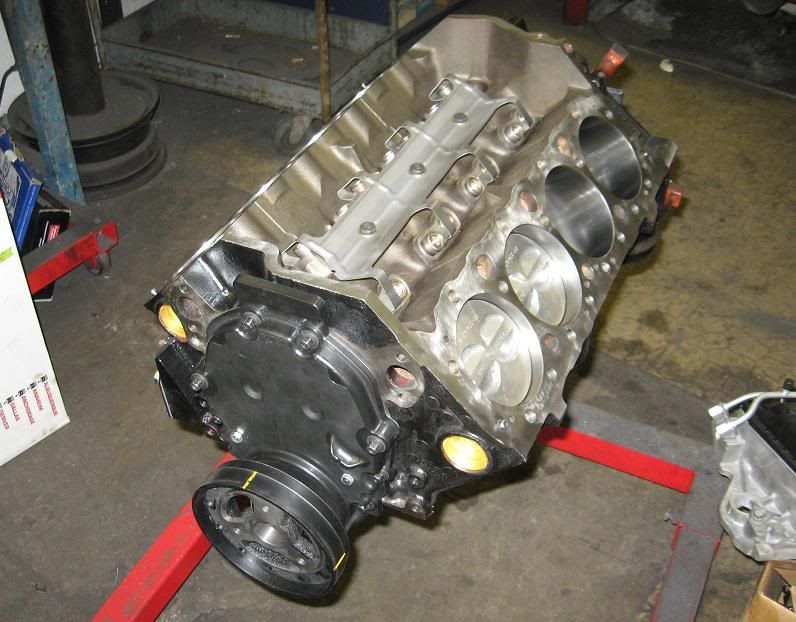 Here's a tech tip: if your using an older SBC block with newer Vortec accessories and more specifically the water pump. Block of the coolant bypass in the block, the Vortec water pump doesn't have the provision for a coolant bypass.
The Heads:
Cleaned them up in my bead blast cabinet.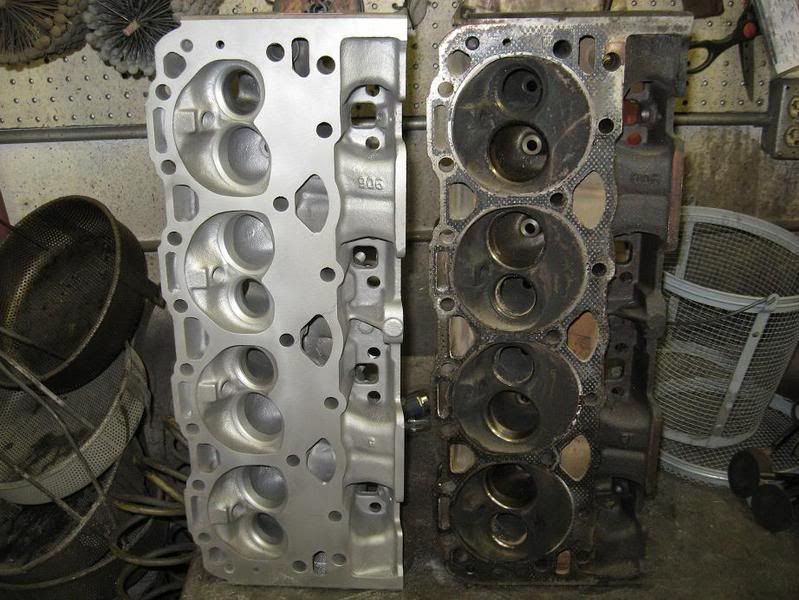 Drilled the pushrod holes out to 1/2", than flipped the heads over and bowl hawged the intake & exhaust ports at the valve
Gasket matched the intake manifold & cylinder heads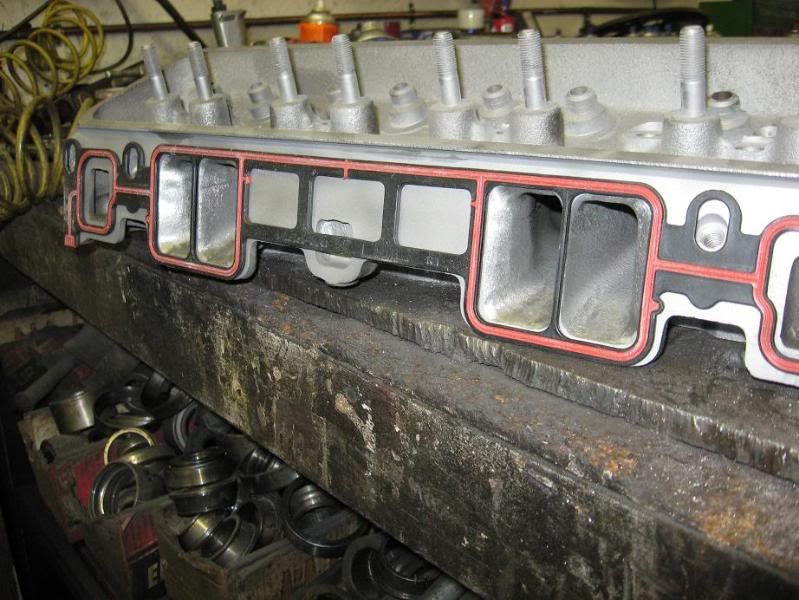 Pinned all 16 rocker arm studs and assembled the heads with new swirl polished 1.94" / 1.5" valves. To accommodate the lift of the LT4 hot cam with Vortec heads I used comps LSx Beehive type valve springs. The rockers are Proform 1.6 ratio full rollers. The pushrods are Comps Hi-Tech line, I did not want the pushrods to be the weak point.
The engine will see:
.525" Int / .525" Exh lift
218 Int / 228 Exh duration
112* lobe seperation
108* intake centerline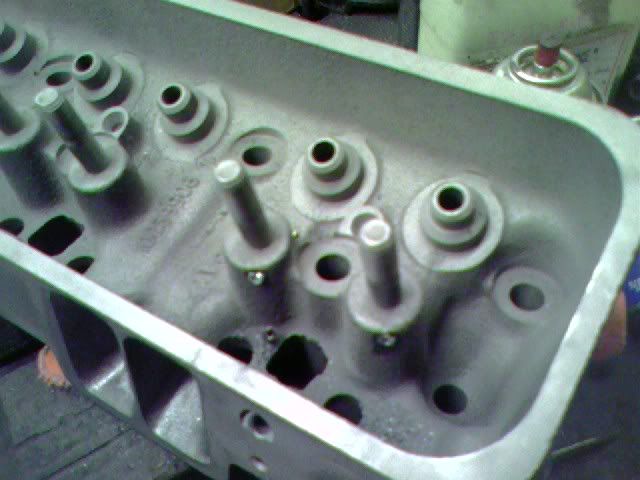 Cleaned up the L31 fuel injection, made a EGR block off plate. A little underhood flash with a pair of tall polished aluminum centerbolt valve covers to clear the polylocks on the Proform rockers.
Opened up the Vortec upper plenum from 72mm to 74.4mm to match the larger CFM-Tech throttlebody
Here's a cool trick with valve covers that have a recessed pattern:
Plain covers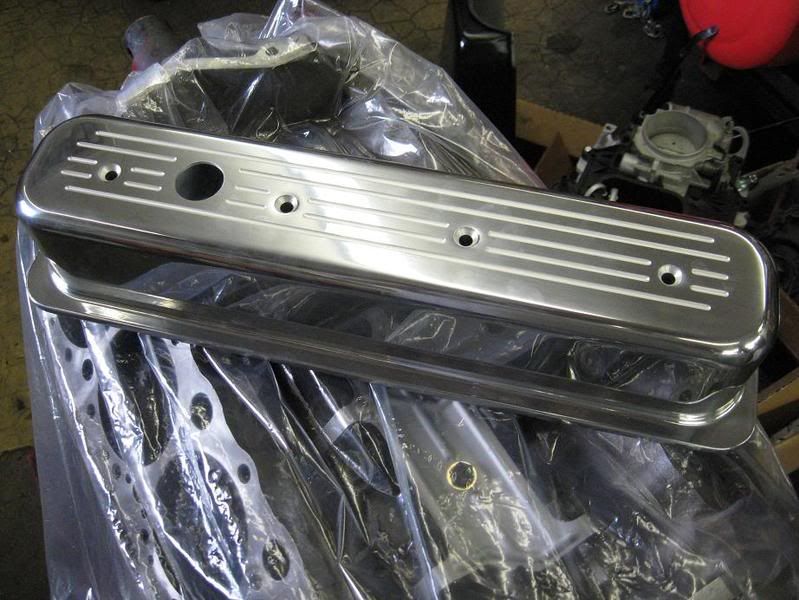 spray paint the top of the covers in your engine color, mine is black. However Red, Chevy Orange & blue would really pop.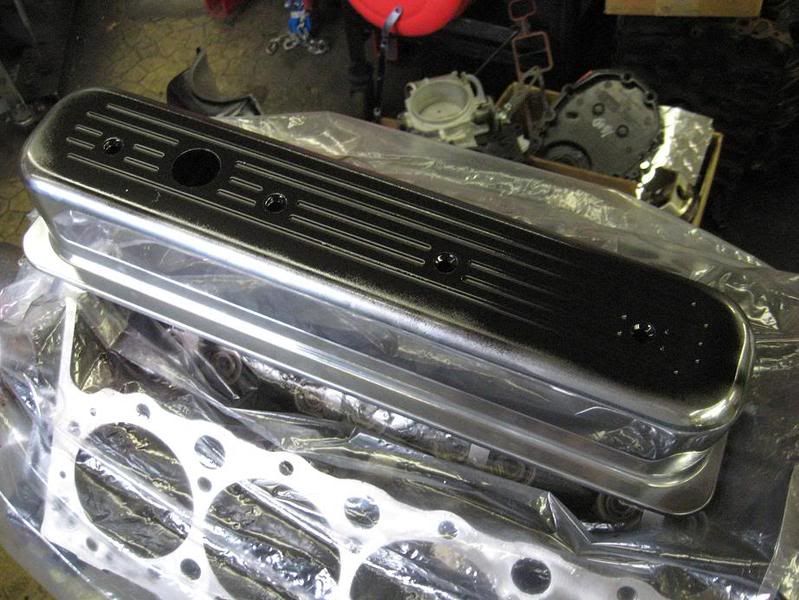 Next take brakleen soaked shop rags and wipe the paint off the top of the cover, leaving the recessed pattern still painted in your color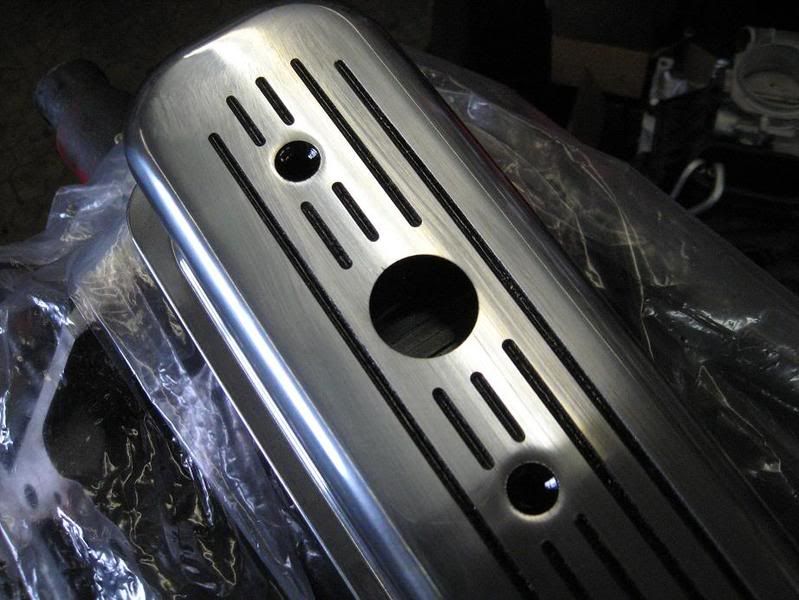 To help this engine, specifically valvetrain that was meant for mid 90's corvettes and that is popular in F-body GM cars, move a 4380lb pickup I have a 3000 stall locking torque converter for the 4L60E in the truck.
With my engine completely assembled I moved it out to my sales floor until I can load it, take it home and begin my swap. The new March pulleys arrived.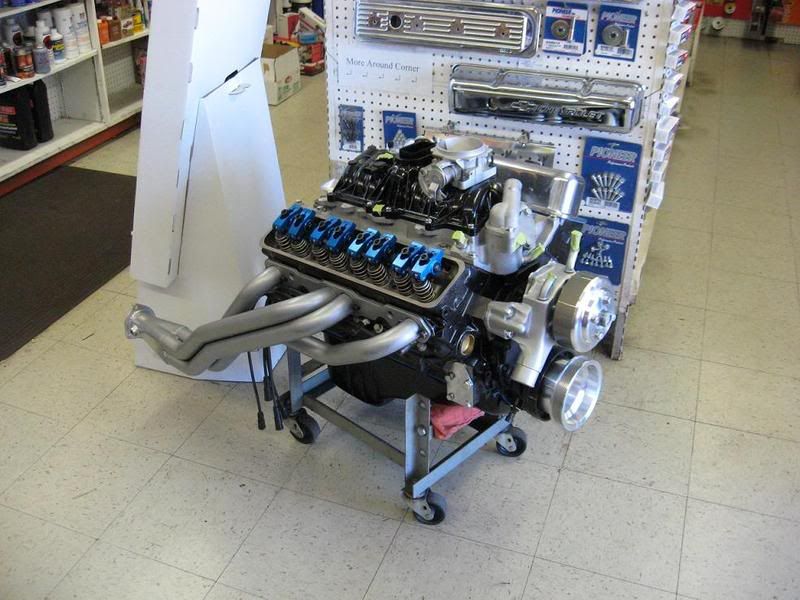 Before installing the crank pulley I chucked up the Dampener in my lathe and removed enough material from the hub to compensate for the shims behind the crank sensor reluctor wheel.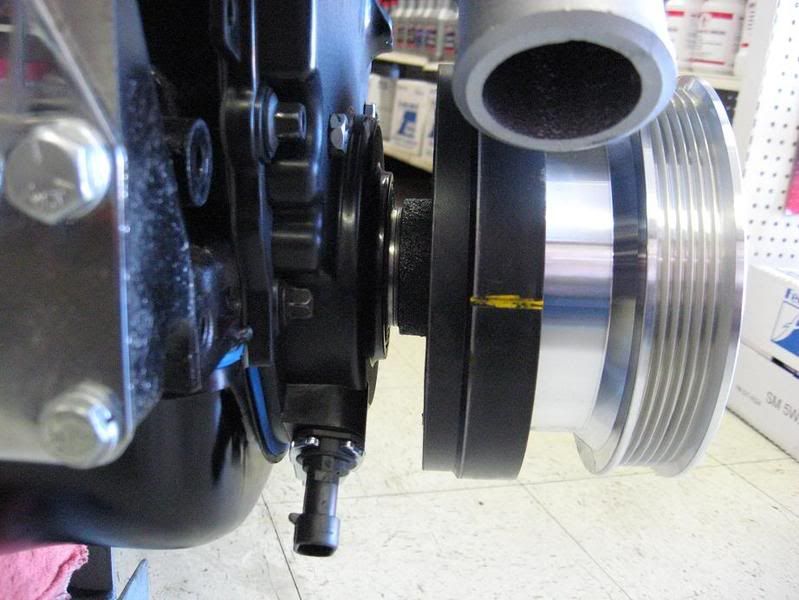 welded a couple O2 bungs to the Hooker 2462 long tube headers. These headers may or may not fit on my application, no companies make headers for this engine on my frame since this engine was never an factory option.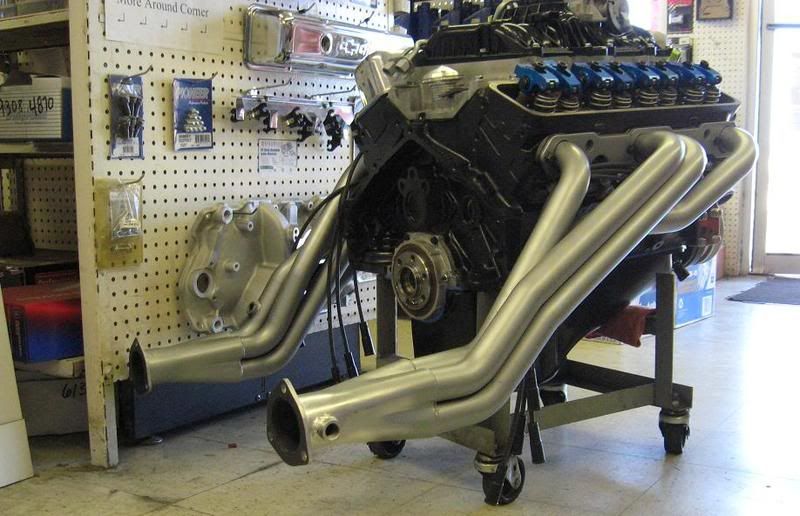 Ok, great. The engine is built... now your asking yourself. How in the hell will it fit in a truck that never came with that motor... and here's my answer.
The 2000-2006 fullsize GM pickup is whats called a GMT800 chassis. It either came with a 4.3L V6 or a LS based V8 in 4.8L / 5.3L / 6.0L or the big block 8.1L
Although the 4.3L v6 has an identical engine mount bolt pattern to the old small block chevy, it is located 4" further back on the block compared to a SBC V8. There are adapter plates that simply bolt on to 4.3L mounts and have the same bolt pattern 4" forward for the block, but that would give me major header clearance issues.
Instead, I've decided to use the 4.8L / 5.3L motor mounts & frame provisions and use a LSx to SBC adapter plate. The plate is used to drop a LSx in your old muscle car that originally had a SBC... I will use the same theory but in reverse. I'll mount a SBC using LSx mounts.
This adapter plate has the SBC mount & LSx mount sharing a single mounting hole. Here are the 4.8L / 5.3L mounts & frame brackets mocked up on the SBC block using that hole.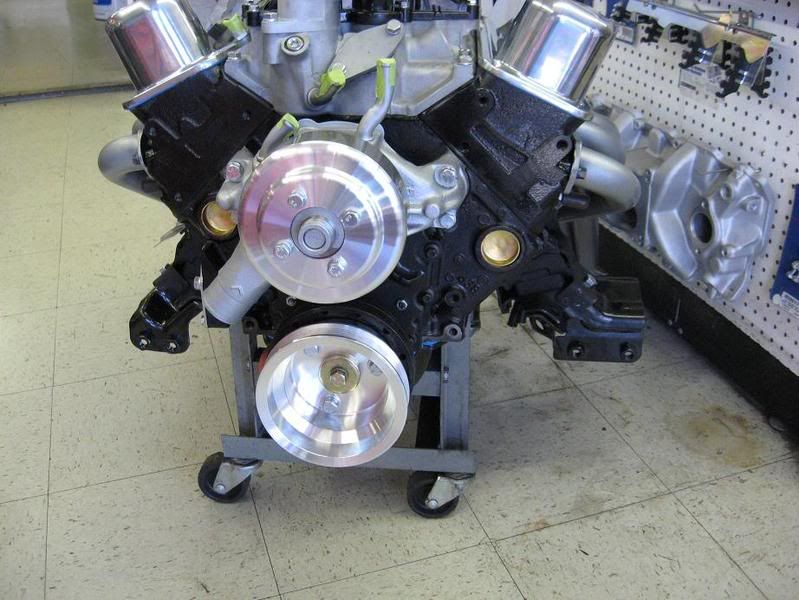 The passenger side mount clears the header perfectly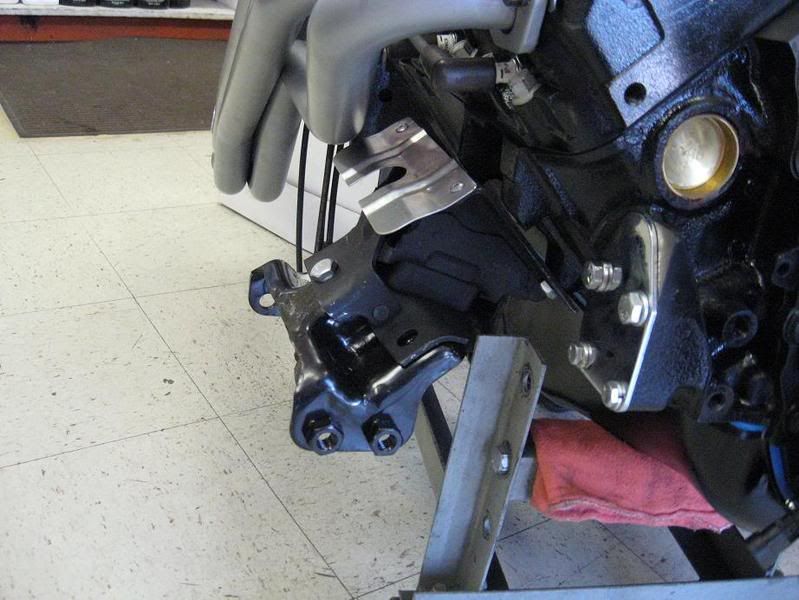 The drivers side mount needed to have some trimming to clear a header tube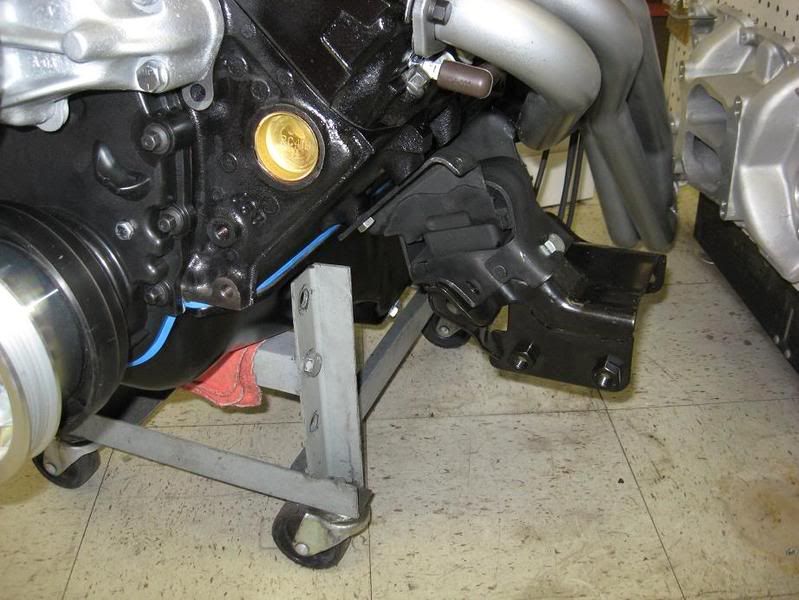 I have the engine control wiring harness from a 96 tahoe. But was mainly concerned of the fuel injector plug-in on top of the engine. I will take that plug and slice it into my trucks current 4.3L wiring harness.
Since I already converted to electric fans I will not worry about the mechanical fan & clutch, The K&N FIPK can be modified to work with the L31 V8 injection. The 4.3L radiator will be sufficient enough for the SBC, and the radiator hoses can be shortened to compensate for the extra length of the V8.
For the computer: I will use HPTuners to flash the trucks current PCM with a modified 2002 G-van 5.7L computer tune to work in my truck. I will decrease knock sensor sensitivity as to not creat false KR with the geardrive & roller rockers.
The exhaust will need to be re-made. If the long tube headers fit in the GMT800 frame I'll make a new Y-pipe to the current single 3" mandrel bent exhaust with the Flowmaster Super 40
And there you have it. My built Vortec 357ci for my daily driven 2004 Silverado. The transplant will take place the weekend of Sept 13th, and of course you can count on me to take a million pictures.
Cheers ~Mykk